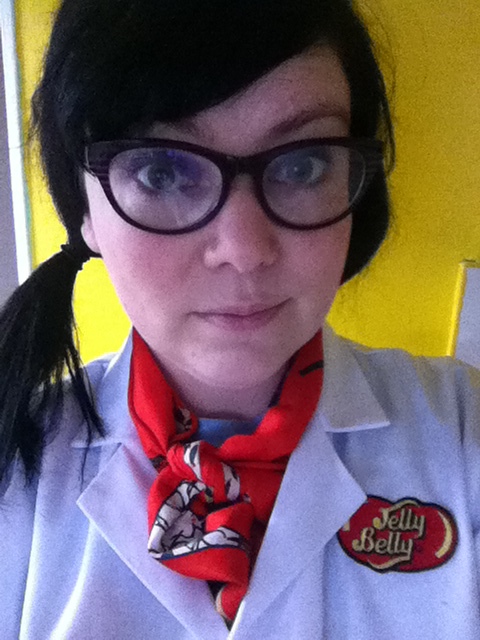 Jelly Belly lab coat. That's right.
This being such a patriotic year has got the undisputed King of the Jelly Bean brands, Jelly Belly, pondering. They are pondering and wondering, what would be the Great British Jelly Belly Flavour? God love them though, with their American ways, they are a bit confused about us Brits. They do enjoy things that taste like Root Beer after all- which our UK tastebuds recoil in terror from screaming, "WHY ARE YOU DRINKING DEEP HEAT MUSCLE RUB?!".
I donned my lab coat and got experimenting, well, in my mind. I suppose if we are being honest a Great British Bean might be Donner Kebab, or if you're thinking more posh a roast beef and mustard jelly bean? Of course that's a horrible thought, but Jelly Belly in the States aren't shy of straying to unusual flavours. A few years ago I ordered some imported Jelly Belly which were sold as a 'Russian roulette' pack. Half were delicious regular beans, half had flavours like pencil shavings & ear wax. So, hit them with your oddest suggestions, because we know Jelly Belly have the technology to make a bean taste like anything! Here's the most exciting part- if you suggest a flavour on their Facebook page
www.facebook.com/jellybellyUK
and they pick your invention, they will fly you out to Jelly Belly HQ in California to oversee them making your bean! Get on it!