Yoghurt Direct are the go-to site for the widest range of Easiyo flavours & varieties. Their current offer has a starter kit for only £9.99 so if you are new to home yoghurt making, now is a good time to try.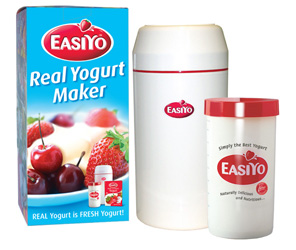 The benefits of making your own yoghurt are economic, it's far cheaper than buying packs in store, plus you know exactly what's going into the mix.
Yoghurt Direct also sell the luxury mixes, many flavours of Easiyo drinking yoghurt and best of all, Easiyo ice cream kits.
TO WIN an Easiyo Yoghurt Maker & flavour of your choice, simply email me at kitschandink@me.com with your name and the answer to,
"Which delicious Easiyo Flavour would you like to try if you win the yoghurt maker?"
You can find the full list of flavours to choose from at Yoghurt Direct.
As always, your email will not be used for any mailing lists, and will only be used to get in contact with you should you win.
Yoghurt prep at home is simple with the Easiyo 3 step system, and there are a wealth of recipes online to make sauces, dips, meals, soups, desserts and more.