On The World of Kitsch I like to support local ventures, and local to me is Northern Ireland. Rory's Story Cubes is an NI born idea that has gone worldwide. A simple premise, cleverly packaged & something your children will want to get their hands on instead of another online game (although there is a Story Cubes iPhone app!)
www.StoryCubes.com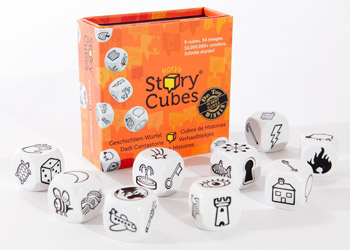 A neat little box containing nine cubes, with nine imagination sparking doodles, ready to roll. Then it's up to you. Take it in turns to form a story from the 54 pictures, truly a game for all ages and wonderful for encouraging story writing in school age children.
I got my hands on the new 'Voyages' set, and my four year old loves them. He's even used them as little building blocks. Will be in my handbag from now on for keeping him busy in restaurants or on long journeys. Grab a set at
http://www.thecreativityhub.com/shop
for £9.99 Or search 'Story Cubes' on the iPhone App Store to get going straight away.