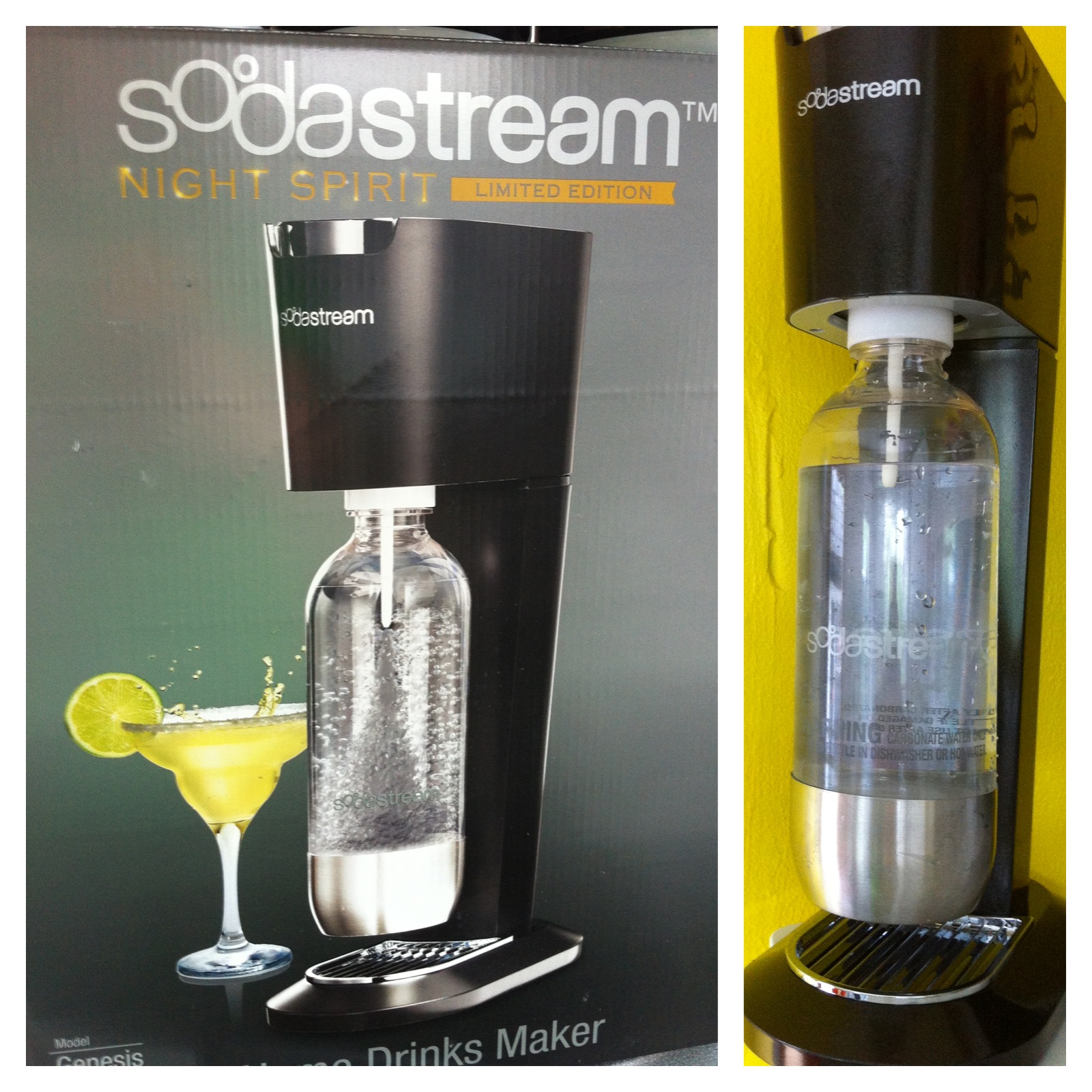 I have very fond memories of my parents' old, beige Sodastream. Lots of you shared similar happy memories of ruining milk & infuriating your Mums.
Sodastream is a more grown up affair these days. Whilst the children's low sugar flavours are still available, alongside dozens of variations of classic flavours, there's a whole new range for us grown up 80s' kids. You can now use the sleeker Sodastream machines to make energy drinks at a fraction of the price. There are isotonic flavours, green tea mixers, fruit iced tea syrups, basically anything you can buy in the store, Sodastream has a version for your machine. The machines themselves look like your espresso machine's taller brother, something you'd be proud to have on display in a modern kitchen. There are coloured versions too for us with quirkier decor tastes, or a penchant for Cath Kidstonesque style design. Sodastream sent me the new, limited edition Night Spirit machine in sparkly black. It's customised to use in the evenings for make at home cocktails. Sodastream have launched mixers of the classic cocktail flavours, Mojito, Cosmopolitan, Margarita and more. So you can make your own virgin versions, or add a little kick to them if you want. I made my son a non-alcoholic Cosmopolitan in honour of the upcoming Cosmo Blog Awards. He gave it a thumbs up. Looking forward to buying more flavours for my machine, I've a list already. Diet Cream Soda, Cherry, and their version of Mountain Dew. I'll be saving myself a fortune making them all at home.
They don't recommend you fizz anything except still water, and for disclaimers sake I have to say the same, but just so you know- apple juice + water + fizz = Appletiser for about 1/5 of the price you'd pay for a can. Also looking forward to making my own fizzy Ribena. Have you any ideas? Let me know on Twitter, I'm @rudedoodle and Sodastream are @sodastreamUK You could suggest new flavours to them, but you'd be hard pushed to find a flavour they haven't got covered this time around.
www.sodastream.co.uk