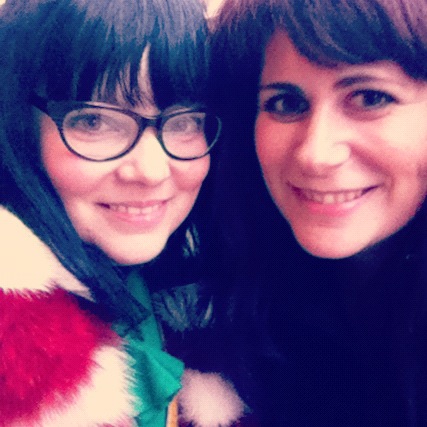 Hello readers!
I've been on blog silence for a few days as I travelled over from Northern Ireland to London on Thursday for the Cosmopolitan Magazine Blog Awards.
I have so much about it all to blog. My outfit from The Rodnik Band, my skyscraper high, tattoo wedges from Iron Fist, my goodie bag of goodies, and the two fabulous hotels I stayed in, The Pavilion Rock Hotel & Tune Liverpool Street.
I will get to all those this week, but for now I'm trying to catch up with myself. If you aren't one of my Twitter followers you might not know I suffer from M.E. which means I spend a huge proportion of my current life in bed. I blog from bed. I tweet from bed. I do everything from bed!
The travelling has really taken it out of me & my brain is too foggy to do the reviews justice right now, but I will hopefully have all the gossip for you this week.
In the meantime here is a snap of @LollyGee from Panda & Crumpet, and myself (I'm in the glasses) waiting to go into the awards party. I didn't win my category, but Lolly won Best Sex & Relationship Blog, so I got to celebrate in her honour!
Have a read of Panda & Crumpet- it's lovely & rude.