I'm handing over The World of Kitsch today to Emma Gilles from Crafty Belfast.
It's tricky to sum up the Crafty experience easily, so it always comes best from Emma herself.
I'll hand over to her to tell you all about what The Guardian called,
"One of the coolest places to visit in the UK".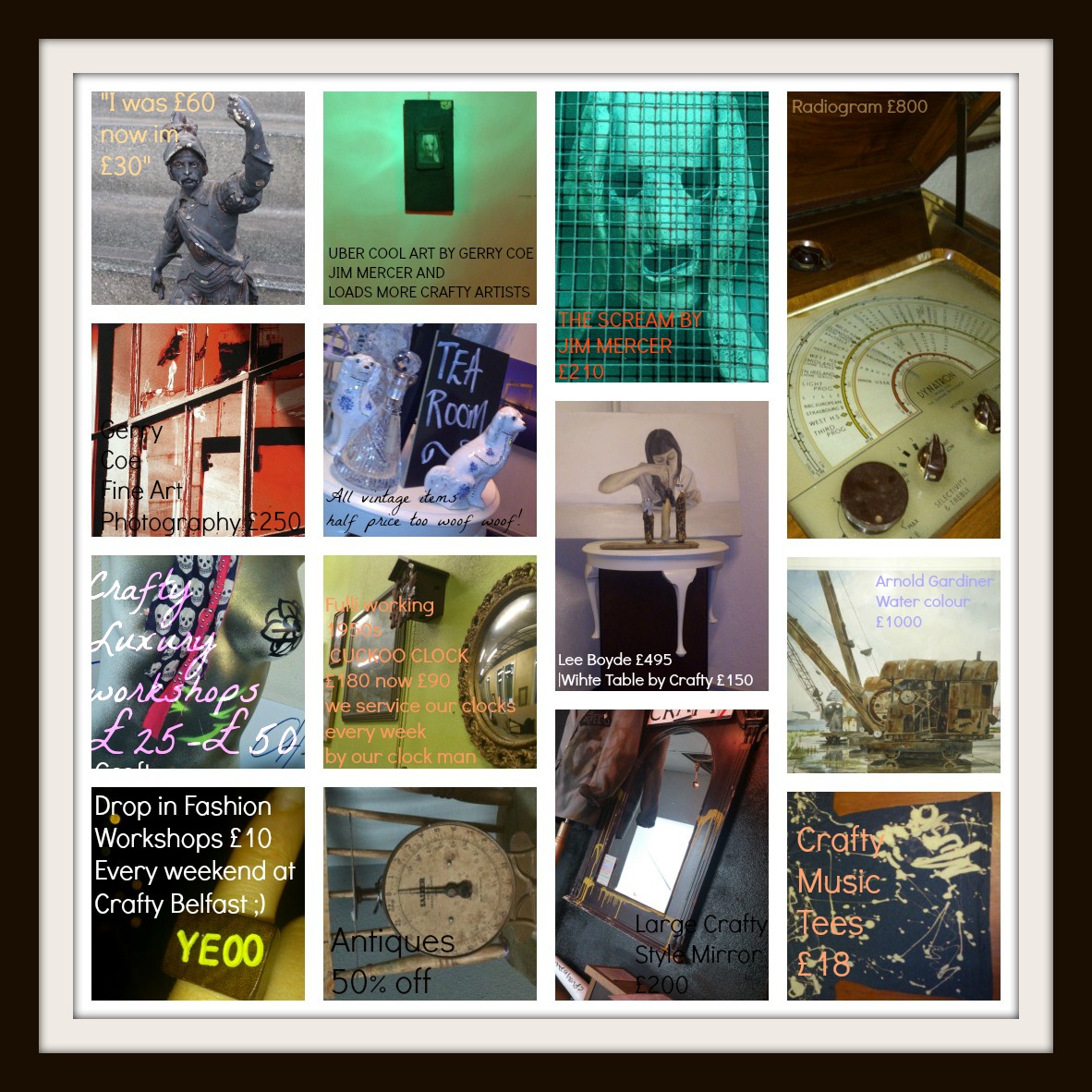 The Crafty brand
was created in 1999
It started out as a hairdressing salon,
which grew into an ethical lifestyle brand.
Crafting hair, fashion interior design selling antiques, paraphernalia & curating art in an idiosyncratic manner.
We run workshops unique to our brand to show people how to imagine things differently.
We imagine, consult, design, create construct. "Style Art Design Music & Invention" & we craft with creatives who have an inner need ...a want.

Its like a magazine.. but alive.. you can walk though it and experience it
and thats crafty eh? ;)
I am delighted to have a couple of Crafty announcments to make...So here it goes all you kitsch people!
Every Christmas we have a MASSIVE sale and this year its an amazeballs 50% off all items for sale in our Bonkers Craftea Manor tearoom. All tables, chairs, mirrors, clocks, everything is half price and everything is for sale. An ethos we started years back, and now others in the city are following suit.
We have a Crafty salvage section too for folk who want a project to revamp a chair themselves or to buy it for some one else to do up if they are into DIY, which everyone is now.
Its free parking at Crafty down here at the T13 warehouse. Its an alternative shopping destination in the stunning Titanic Quarter. Queens road is behind the Odyssey can be accessed quite easily away from traffic jams etc. and its so easy picking up items and for folk wishing to recycle and drop furniture off to us. 10am-10pm everyday until half day christmas eve 3pm.
The Chamber galleries welcome you to an array of Art Music & Design.
Our Sauce Boutique is now open at Crafty Chamber III ;) Housing erotica photography from Erin Elizabeth, Kelly Photography, Jai Se

well, Dylan Molloy, Proff B Green, Jim Mercer, Gail Mahon, Gilles. Over 18yrs only.
Our Music gallery in Chamber II has a selection of gig photography of local bands shot by Freelance photographers Chris Flack (Oh Yeah Music Centre) and Bernie McAlister. We are delighted to have artwork from Kris Platt in our exibition from local band More Than Conquerors and stunning sketches from Lee Boyde who did the artwork for local folk band Farriers and loads more.
CRAFTY FASHION WEEKENDS.."SAVE THE WORLD WHILST LOOKING GOOD"
Our most recent Fashion workshops where held at THE MAC in October. We were invited to showcase Crafty and customise clothing folk had brought in that they felt needed a little something crafty!
And so Crafty is proud to announce after a few years of running the odd workshop & hosting a city council Sew Crafty event for their Waste Reduce Recycle Campaign thats still on going today (thats why our mutha facebook page is called Craft workshop ) We are now pleased to be able to host fashion workshops every weekend Friday through to Sunday from 10am/10pm in our idoisyncratic art gallery and our Crafty Manor Tea Room.
Drop in fashion workshops at £10 pounds for an
all day cool fashion workshop environment thats laid back, chilled out, with tea and treats and if folk want BYO by request? Fine!
Its for students and folk who want to hang out, make and create with everything you need to customise clothes and create accessories.
For the younger crafty one in your family we can host Little Miss and Mr parties with us here in TQ, or invite Crafty to your home for a party tailored to you and your fashionista friends!


Luxury workshops can be discussed for hen parties and birthdays from £15 per head up to £50 pounds depending on your fashion wants and needs. We use the finest english worsted cloth and a host of semi precious stones and swarovski crystals for these workshops and we supply our signature blazers we wear ourselves which ladies love!
These workshops can include our hair salon where we can teach you how to apply makeup and style hair perfectly for work or evening wear these are our STYLE WORKSHOPS which can start at £10 up to £45 pounds depending on what you wish to learn and need to be booked with us. The fashion workshops however are on all day and you just pop in and get started!
Ive always wanted to get this idea off the ground since 2005 I visited Invest NI and told them all my hopes and aspirations they talked for two solid hours! They gave me massive confidence to keep going. Along with being shortlisted for an MBA throughout the whole of Ireland out of 50 people in 2010.
Im delighted to say this is my most happiest crafty moment yet and im glad I did it as its the first of its kind in the city and its been a long road getting here but we are ready as ever to get crafty and "Save the world whilst looking good!"
You can buy a workshop from us in TQ or Email info@crafty-belfast.com Or as most do just click this link below and buy a ticket online ! Easy! It comes through to your email! Print and pop it into a Christmas card for the budding fashionista that wants to create all day long.
More info about workshops when you hit the link below too!
http://dropincraftyfashionworkshops.eventbrite.co.uk/
Recent write up from In your pocket..which is nice!
http://www.inyourpocket.com/northern-ireland/belfast/Stags-and-Hens/Stags-and-Hens/Crafty-;_111546v