Remember our first ever guest post, sponsored by John Lewis? I loved it so much I've invited another John Lewis style spotter back on board to share their tips on bringing your walls to life.
Collecting ornaments, pottery and kitsch finds is great fun (especially if you've got a fantastic glass-fronted cabinet in which to showcase them) but if you're running out of windowsills, shelves, mantelpieces and other surface space, don't forget your walls and windows – think vertical.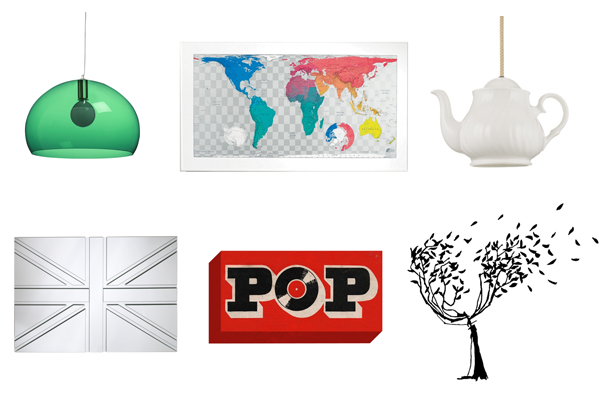 Lovely lighting
Set the mood in a room with wall lighting – it'll add atmosphere, and can also illuminate an area of the room you want to highlight – perhaps that which houses your most treasured finds. Besides classic Christmas-style bulbs, try twinkly flowers, butterflies, dragonflies, birds or other baubles. Current favourites from John Lewis are the Shelly LEDs – featuring beautiful beach-shells – and the pretty cream Orchid Line. Or if minimalist statement style is more your bag, go for a brightly-coloured ceiling lamp will add a practical focal piece.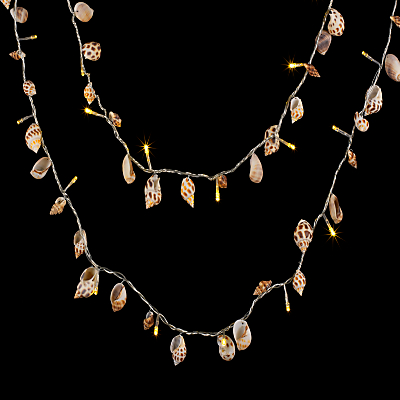 Marvellous mirrors
You can't go wrong with a classic 1950s starburst mirror, but if you've failed to find one by trawling junk shops, vintage emporia and flea markets, there are many modern interpretations on the theme. Circular Venetian designs or Deco-style crests; heart-shaped or scalloped; gold or chrome, whatever you choose, mirrors add depth and a sense of space to a room. If you can't decide which style you prefer, create a feature wall with mirrors of different shapes and sizes.
Quirky curtains
Don't overlook curtains as a quick and easy fix to update your decor. John Lewis has a range of retro prints, including the much-loved Sanderson Dandelion, Harlequin's adorable What A Hoot owls, 1950s-style leaf prints, boats, dogs and even dinosaurs. Choose your material, see some sample swatches and order your made-to-measure curtains or browse through the gems in ready-made collections. Check out Dinotastic from John Lewis' Little Home children's range – also perfect for a kitsch-loving adult with an eye for the unusual.
And additional extras? Pop art pictures and wall stickers, such as those in The Nouvelles sticker range, which include Russian Dolls, Noah's Ark and Budgerigars images, or Le Pre d'Eau's silhouetted trees, will add the finishing touches. As they're temporary, you don't have to spend too much time deliberating before you commit to the kitsch.
All items featured availavle at John Lewis at time of publication.