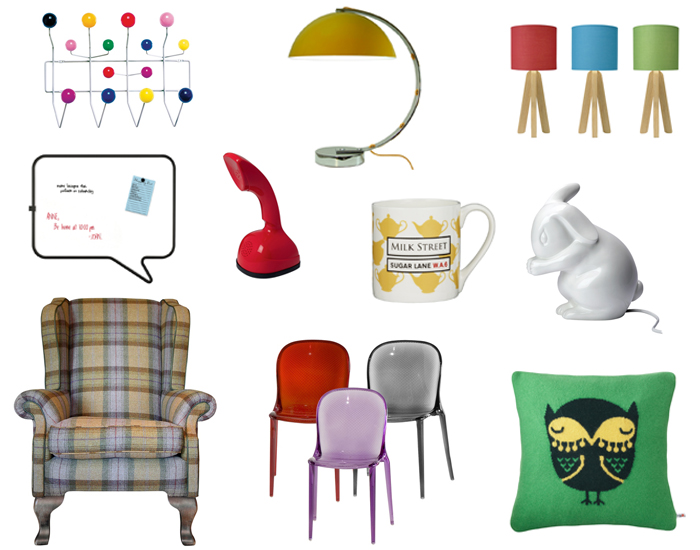 Very excited to welcome my first ever guest blogger!
You love kitsch – of course you do, you wouldn't be here otherwise, right? Well, you're certainly not the only one. The home interiors industry have gone crazy for kitsch over the past few years, with the focus on retro revival, independent designers and eclectic style helping to inject a bit of fun into interior décor. Here, guest blogger Jo-ann Fortune fromwww.VintageBrighton.com , talks us through three of the biggest current trends in kitsch homewares.
Mid-century modern
Hit TV shows such as Mad Men and The Hour have helped to propel sleek mid-century style into the mainstream. The innovative nature of Fifties and Sixties designs means that they still seem fresh and fun today, and interior designers have taken inspiration from the bold and bright colour palettes, streamlined silhouettes and man-made materials typical of the era. Look out for atomic details, revival items by Kartell, such as their range of iconic injection-mould chairs and side tables and anything PopArt-inspired.
British heritage
Just as the fashion world has turned its attention towardsBritain's great design heritage, championing tweed, the English gentry look and classic items such as the quilted country jacket, interior designs are also drawing on our country's posh past for inspiration. September's Wool Week saw homeware designers showcase cosy cushions, rugs and even sofas made from the natural material, and tweed and tartan are among the traditional patterns currently adorning everything from bedding to bedroom furniture.
With the London Olympics now just around the corner, iconic British designs, such as the Tube map and street signs willalso be making their way into out homes.
Animal magic
Animal designs and prints can add cute and kitsch detail to any living space, and owls, rabbits and foxes are among the most popular species currently enjoying the homeware treatment.Animals and nature seem to stimulate crafty creativity, with furry friends being formed from felt or stitched onto cushions and other soft furnishings. Those working in ceramics and acrylics are also in on the game, creating statement pieces from animal outlines. And you don't have to take any of them out for walkies…
For further kitsch trend inspiration, check out the above selection of homewares from John Lewis .